My First Holy Communion Candle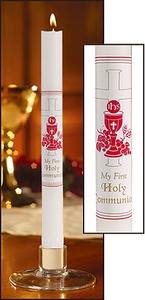 Item Number: WB-70228
Manufacturer SKU: 70228
Regular Price:

$2.95

Your Price:

$2.25

(24% savings)

Closeout Price: $1.00

(66% savings)
Designed by local artists, each candle is a unique gift of remembrance for the holy sacrament of First Communion.
The sacrament is gently, solemnly reflected in this gracefully-styled white candle symbolically designed in tints of gold and red.
Each candle is 12" long and has a 7/8" diameter.
Each gift box has a special area designed for commemorative information.
Sold individually
12 candles per case.
Height: 12"
Diameter: 7/8"
Taper: No
Case Pack: 12
Our apologies, but this item is non-returnable.

Over 155 years old, the Will & Baumer tradition of high quality candle products continues today with their commitment to excellence and the flexibility to meet ever changing needs. Located in upstate New York they have recently opened a new manufacturing and distribution center just south of Nashville, Tennessee.
Church Partner Contact Information