Uncommon Jr. High School Study: Prayer & Worship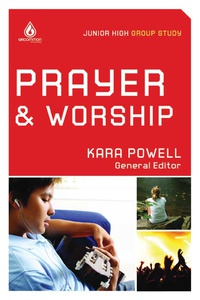 Item Number: 083-075-4816
Manufacturer SKU: 978-08307-54816
Regular Price:

$14.99

Your Price:

$12.74

(15% savings)
Young teens have a lot of questions about why Christians do what they do...even if they don't ask them out loud. What is prayer? Does God always answer? What about when He seems silent? And what about worship? Is it just a bunch of people wearing choir robes and singing?
Uncommon: Prayer and Worship helps leaders answer tweens' questions in ways that make sense for their junior-high lives. Through Scripture study, fun activities and stories and discussion, students will understand the what's and why's of prayer and worship - and be motivated to make them a part of their spiritual life.
Publisher: Gospel Light
Author: Kara Powell, Ph.D
Pages: 190
Format: Paperback
Publication Date: June 2010

Henrietta C. Mears was one of the great Bible teachers of the 20th century. While Christian Education Director at First Presbyterian Church of Hollywood, she built one of the largest Sunday Schools in the world and wrote curriculum that was in such high demand that to publish it she founded Gospel Light in 1933. Such notable Christian leaders as Richard C. Halverson, Luis Evans, Jr. and Bill Bright were among her students. Miss Mears developed "cradle-to-grave" age-appropriate curriculum, published a new style of Vacation Bible School, and lent her support to distributing Gospel materials around the world. Gospel Light has expanded into a multi-faceted publisher of fun and creative Sunday School curriculum, exciting Vacation Bible School programs and inspiring biblical books (Regal) . The mission of Gospel Light is still the same today as it was in 1933: "To know Christ and to make Him known."
This item can be returned to ChurchPartner as long as it has not been used, corners are not tattered or curled and is in its original packaging. All returns must be shipped back within 30 days of purchase for a full refund or exchange. All damaged product must be reported within 7 days of receipt. You are responsible for all shipping costs back to our warehouse unless the product was damaged in shipping. Please call us at 800-572-0550 and receive a Return Authorization number to ensure proper credit for the returned item. All credits will be distributed in the same manner as it was originally charged (i.e. credit card credits will be made to the same credit card used for purchase). All credits, with the exception of damaged items, will be for the product cost only, and will not include original shipping charges. Items must be received in resalable condition for credits to be issued. Items damaged during shipping back to our warehouse is the responsibility of the sender and, therefore, you are required to contact the shipping company and settle any disputes. Item returned without a Return Authorization number can be delayed in processing and credits might take 30 days or longer to process.
Church Partner Contact Information