Matthew 21:9 Palm Sunday Bulletin - Letter Size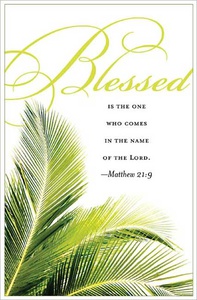 Item Number: 068-766-1336
Manufacturer SKU: 9780687661336
Regular Price:

$9.70

Your Price:

$5.00

(48% savings)
This Palm Sunday bulletin measures 8-1/2" x 11" and there are 100 bulletins per package.
Scripture: Matthew 21:9

Abingdon Press is an imprint of The United Methodist Publishing House, in operation since 1789. In the early 1920s, Abingdon began publishing a wide array of high-caliber academic, professional, inspirational, and life-affirming religious literature to enrich church communities across the globe. Now beginning its ninth decade, Abingdon Press has a commitment to providing the best, most effective religious publications available.
Our apologies, but this item is non-returnable.
Publisher: Abingdon Press
Church Partner Contact Information