Standard Lesson Resources - Adult Resources - Fall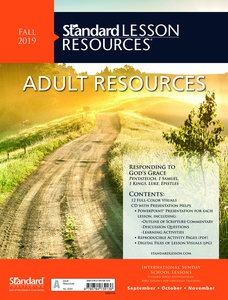 Item Number: 020092-1
Manufacturer SKU: 9780784739136
Regular Price:

$20.99

Your Price:

$18.47

(12% savings)
Add visual appeal to your lessons! The Adult Resources pack provides 12 full-color posters, including a map and/or chart for the quarter, plus a variety of colorful images to engage the visual learners in every class.
• The pack also provides a Presentation Tools CD that includes:
Digital images of all the printed posters
A PowerPoint® presentation for each lesson
A reproducible student activity page—available in KJV, NIV®, and ESV®—for each lesson
Order 1 per class.
PowerPoint® is a trademark registered in the United States Patent and Trademark Office by Microsoft Corporation. Used by permission.

David C. Cook is a nonprofit organization dedicated to publishing and distributing leadership and discipleship resources to help Christians all over the world grow in their faith and pass it on to the next generation. They call this "DiscipleShaping". They were established in 1875 by David Caleb Cook in Chicago, IL. Since that time, they have published numerous bestselling books from The Picture Bible to Crazy Love by Francis Chan, developed over ten lines of Sunday school curriculum, and published many of today's most popular praise and worship songs through their music division, Kingsway.
Church Partner Contact Information