Growing in Christ Director Kit (OT3)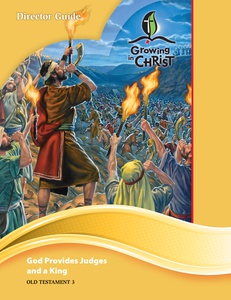 Item Number: 46-0360
Manufacturer SKU: 460360
The Growing in Christ Director Kit is a must have for every Sunday School Director or Superintendent. Organize and guide your Sunday School program more efficiently and effectively with this essential resource.
List Price:

$10.99

Your Price:

$10.45

(5% savings)
OVERVIEW:
The Director Kit includes:
A Director Guide with tips to help you lead a Sunday School ministry that meets the needs of all students.
A Director CD with reproducible resources from the Director Guide, including an order of opening worship, staff job descriptions, teacher meeting outlines, Bible commentary on each week's lesson, teacher enrichment articles, and more.
Publicity posters that invite kids and parents to Sunday School
A timelines poster that shows the historical connections between biblical and world events.
The thirteen Old Testament Bible stories covered in the God Provides Judges and a King quarter are:

The Twelve Spies in Canaan
Entering the Promised Land
The Fall of Jericho
Deborah
Gideon
Samson
Ruth
God's Servant Samuel
Saul Becomes King
David and Goliath
David and Jonathan
David Becomes King
God Forgives David
Publisher: Concordia Publishing House
ISBN: 9780758652867
Pages: 24
Format: Paperback

Concordia Publishing House, where words have been our business and faith our inspiration for more than 139 years. We are the publisher of The Lutheran Church—Missouri Synod, and we are dedicated to spreading the Gospel message of Jesus Christ throughout the world.
Church Partner Contact Information