Christians at the Border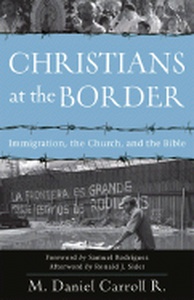 Item Number: 080-103-566X
Manufacturer SKU: 9780801035661
Regular Price:

$16.99

Your Price:

$14.44

(15% savings)

Closeout Price: $3.00

(82% savings)
Immigration is one of the most pressing issues on the national agenda. This accessible book provides biblical and ethical guidance for readers who are looking for a Christian perspective on the immigration issue.
As both a Guatemalan and an American, the author has immersed himself in this issue and is uniquely qualified to write about it. Drawing on key biblical ideas, he speaks to both the immigrant culture and the host culture, arguing that both sides have much to learn about the debate.
This timely, clear, and compassionate resource will benefit all Christians who are thinking through the immigration issue.

Baker Books has a vision for building up the body of Christ through books that are relevant, intelligent, and engaging. They publish titles for lay Christians on topics such as discipleship, spirituality, encouragement, relationships, marriage, parenting, and the intersection of Christianity and culture. They also publish books and ministry resources for pastors and church leaders, concentrating on topics such as preaching, worship, pastoral ministries, counseling, and leadership. They are located in Grand Rapids, Michigan.
Church Partner Contact Information