Deep Blue - Babies & Woddlers - Annual Ministry Guide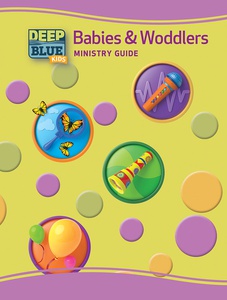 Item Number: 552001-9
Manufacturer SKU: 9781630887179
List Price:

$9.99

Your Price:

$8.49

(15% savings)
The Deep Blue Babies & Woddlers Ministry Guide helps churches create a safe, nurturing church nursery. It includes:
Forms for guardians
Training materials for your nursery staff
Up-to-date coding instructions for safe nurseries
Faith formation resources-including monthly guardian letters, links to beautiful posters, prayers, songs, and finger plays
Creating a safe, loving nursery creates a solid foundation for your youngest churchgoers to know the grace of God.

Abingdon Press is an imprint of The United Methodist Publishing House, in operation since 1789. In the early 1920s, Abingdon began publishing a wide array of high-caliber academic, professional, inspirational, and life-affirming religious literature to enrich church communities across the globe. Now beginning its ninth decade, Abingdon Press has a commitment to providing the best, most effective religious publications available.
Publisher: Abingdon Press
Church Partner Contact Information