HeartShaper - PreTeen - Activities - Fall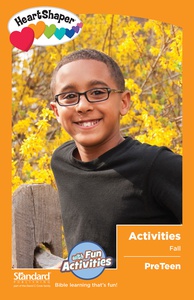 Item Number: 020053-1
Manufacturer SKU: 9780784778579
Regular Price:

$5.49

Your Price:

$4.83

(12% savings)
These PreTeen activity leaflets make Bible study fun! All new activity leaflets help preteens take a deep dive into Scripture and draws them in to purposeful activities and meaningful discussions. Filled with a variety of activities, these leaflets help make relevant connections-during and after class-in the lives of kids ages 11 and 12. Every activity supports the focus of the lesson. For preteens in grades 5 and 6.
Order 1 per student.
Preteen lesson activities help kids go beyond right and wrong answers, engaging them in meaningful discussion and encouraging them in their commitment to Christ.
This fall, 5th and 6th graders will learn about and discuss; Faith and Science, Stand Up for God, Satan's Sorcery, and God Knows Our Needs.

David C. Cook is a nonprofit organization dedicated to publishing and distributing leadership and discipleship resources to help Christians all over the world grow in their faith and pass it on to the next generation. They call this "DiscipleShaping". They were established in 1875 by David Caleb Cook in Chicago, IL. Since that time, they have published numerous bestselling books from The Picture Bible to Crazy Love by Francis Chan, developed over ten lines of Sunday school curriculum, and published many of today's most popular praise and worship songs through their music division, Kingsway.
Church Partner Contact Information