Bible-in-Life Adult Quiet Hour - Spring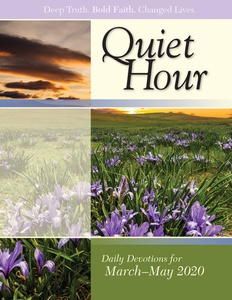 Item Number: 301085-3
Manufacturer SKU: 1085-3
Regular Price:

$6.99

Your Price:

$6.12

(12% savings)
The personal-sized Quiet Hour booklet is designed to provide adults with focus and direction for daily reflection. Each day's reading includes the recommended Scripture passage, explores how a fellow believer has applied its theme to their life, and ends with prayer or devotional comment to start a conversation with the Lord. Thirteen weeks of daily Scripture readings and devotionals coincide with lessons in the student book and coordinated with its Daily Bible Readings. Need one per student plus extras for the classroom or church.
Features:
Daily Bible readings and devotions coincide with weekly lessons
New content every quarter
Follows the ISSL plan of daily readings

David C. Cook is a nonprofit organization dedicated to publishing and distributing leadership and discipleship resources to help Christians all over the world grow in their faith and pass it on to the next generation. They call this "DiscipleShaping". They were established in 1875 by David Caleb Cook in Chicago, IL. Since that time, they have published numerous bestselling books from The Picture Bible to Crazy Love by Francis Chan, developed over ten lines of Sunday school curriculum, and published many of today's most popular praise and worship songs through their music division, Kingsway.
Publisher: David C. Cook
ISBN: 978158-919-4052
Church Partner Contact Information