Ocean Commotion Tubular Bandanas (Orange)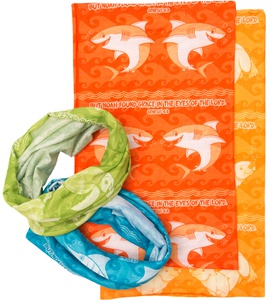 Item Number: 11-4-153

Regular Price:

$19.99

Your Price:

$17.00

(15% savings)

Closeout Price: $5.00

(75% savings)
The Ocean Commotion tubular bandana can be worn as a hat, headband, scarf, hood, neckerchief, armband, or anything your imagination can come up with. It comes in four different colors and features four different animals. Great for team identity or rewards.
Sold in packs of 10.
Wash care: Hand or machine wash warm. Mild soap. No fabric softeners. Do not use bleach. Do not machine dry. Do not iron.
Our apologies, but this item is non-returnable.
Church Partner Contact Information