Jonti-Craft®- Thrifty See-n-Wheel - 3927TK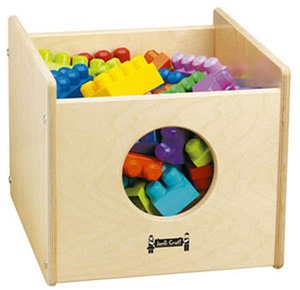 Item Number: 16112
Manufacturer SKU: 3927TK
Save money by assembling yourself. See what's being stowed and wheel it to the activity. KYDZStrong® bins with a round acrylic "window". One year warranty.
List Price:

$113.00

Your Price:

$90.95

(20% savings)
Store anything and see what it is. The bins fit in many shelves and tables. Great for storage. Wheels make for easy transportation.
Round acrylic window
KYDZStrong™ construction
KYDZSafe™ edges
KYDZTuff™ finish
Ready to assemble
Lifetime warranty

Jonti-Craft, the leading provider of quality furniture for the early learning market, offers a wide selection of creatively designed products. From our KYDZSafe® edges to our KYDZTuff® finish, you'll find that all Jonti-Craft products are packed with features that make them safe, functional and affordable. Every single corner and edge of our products are rounded for safety. And, since we are the only early learning furniture manufacturer to use both birch and Rainbow Accents® materials, your furniture options are endless. To top it off, Jonti-Craft products are built using the strongest construction techniques available to ensure that your furniture purchase will last a lifetime!
Weight: 16 lbs.
Width: 16"
Height: 13-1/4"
Length: 14"
Church Partner Contact Information