FaithWeaver NOW - Preschool - Student Book: My Bible Hugs - Summer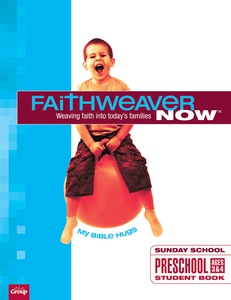 Item Number: 201201-4
Manufacturer SKU: 9781470754389
Preschool Student Book: My Bible Hugs equips you to lead memorable, life-changing lessons.
Regular Price:

$6.19

Your Price:

$5.58

(10% savings)
2-in-1 student books include the in-class portion on the front page and the take-home activities on the back page! Recommended to purchase one for each child.
· Each Student Book activity helps reinforce the Bible point as kids get involved with an in-class activity.
· "HomeConnect®" gives kids an easy-to-do chance to spend time with parents—and reinforce the lesson again at home!
· "What I Learned Today" provides an overview of the lesson for the family to review together.
· "Daily Challenge" helps kids weave faith into life each week as they follow through on the challenge.

If your church does it, they've probably got it. It's been said that tool companies don't sell drills; they sell holes. The same goes for Group. They don't just sell books, curriculum, training, Bibles, software, etc. They're in the business of making you even better at what you do in ministry. They want you to feel joy and fulfillment as you connect people with Jesus. That said, Group does offer a wide range of resources and services for just about every area of church ministry: children's ministry, youth ministry, adult small groups, women's ministry, pastoral ministry, and more.
Publisher: Group Publishing
Church Partner Contact Information