FaithWeaver NOW - Pre-K & K - Teacher Pack - Summer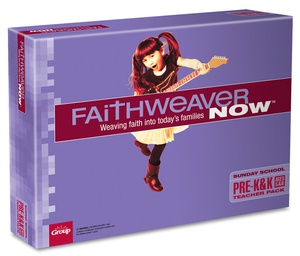 Item Number: 201300-4
Manufacturer SKU: 1210000306456
The essentials you need for a quarter—all in one convenient pack! Each lesson is built with 60-65 minutes of learning so you can easily add or delete items to suit your ministry's needs.
Regular Price:

$51.29

Your Price:

$46.17

(10% savings)
This pack includes the following:
1 Teacher Guide that includes online access to download a FREE digital copy of each lesson in Word (editable) and PDF format
Music/Sound Effects CD
Box full of fun, interactive teaching tools, posters, and handouts

If your church does it, they've probably got it. It's been said that tool companies don't sell drills; they sell holes. The same goes for Group. They don't just sell books, curriculum, training, Bibles, software, etc. They're in the business of making you even better at what you do in ministry. They want you to feel joy and fulfillment as you connect people with Jesus. That said, Group does offer a wide range of resources and services for just about every area of church ministry: children's ministry, youth ministry, adult small groups, women's ministry, pastoral ministry, and more.
Publisher: Group Publishing
Church Partner Contact Information