FaithWeaver NOW - Adult Leader Guide - Summer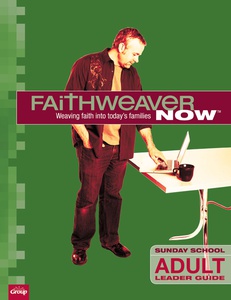 Item Number: 201901-4
Manufacturer SKU: 9781470754358
Regular Price:

$15.39

Your Price:

$13.86

(10% savings)
FaithWeaver NOW® Adult Bible Study includes daily challenges, devotion for leaders, creative ideas, and great activities that help adults in any life stage grow closer to Jesus.

With the purchase of this Leader Guide, you have access to a FREE digital copy in Word and PDF format at group.com/digital. You can easily customize any lesson to your ministry using the Word version. Sharing lessons with busy volunteers couldn't be easier!

Features:
Through the Bible every 3 years.
Quarterly, dated adult Sunday school.
Every weekly lesson contains 60-65 minutes of lesson content.
Perfect for small groups, building relationships, and life application.
Reproducible take-home pages add to the ease of creating an adult Bible study.
Quarterly FaithWeaver NOW Adult Leader Guides provides 13 lessons with:

DAILY CHALLENGES—provides a faith that weaves into their lives.

WEAVING FAITH AT HOME—talk about how to dig deeper into the lesson all week long.

BIBLE BACKGROUNDS—gives leaders a deeper understanding of the Scripture for their own spiritual growth!

JESUS CONNECTION—and life application of the lesson—to help leaders reflect and pray!

LESSON CHART—makes organizing the lesson and supplies easy!

Designed to be used along with FaithWeaver NOW Sunday school, KidsOwn Worship® Children's Church and FaithWeaver Friends® weekly children's program. All three programs follow the same scope and sequence and explore the same weekly Bible passages.

If your church does it, they've probably got it. It's been said that tool companies don't sell drills; they sell holes. The same goes for Group. They don't just sell books, curriculum, training, Bibles, software, etc. They're in the business of making you even better at what you do in ministry. They want you to feel joy and fulfillment as you connect people with Jesus. That said, Group does offer a wide range of resources and services for just about every area of church ministry: children's ministry, youth ministry, adult small groups, women's ministry, pastoral ministry, and more.
Publisher: Group Publishing
Church Partner Contact Information