ComforTek 7701 Church Chair - Dark Blue/Silvervein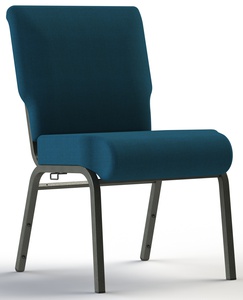 Item Number: 72065-AW05
Manufacturer SKU: 7701-20-AZ-AW05
The 7701 is our standard bearing church chair in design and comfort. Extended lead times may apply.
List Price:

$83.00

Your Price:

$51.60

(38% savings)
Features of these chairs include:
Full 3" Seat Foam includes 2.5" medium density with .5" high density base - full 10 year warranty
1" medium density foam back with 1.5" foam lumbar for added back support
1" all-steel legs featuring 18 weld points
.75" all-steel back bridge minimizes torque and provides easy handle for stacking
4 steel cross members for added lateral support and strength
Standard chair ganging allows for chairs to maintain straight rows and meet many municipal requirements for fire regulations
Stitched card pocket standard
StaFast "Ultimate" T-nuts won't pull out
Frame: Silvervein
Fabric: Black
25-year frame warranty
10-year fabric and foam warranty with CAL 117 flame retardance
Free sample available! Customer pays $25.00 shipping.

ComforTek manufactures the highest quality seating solutions. With corporate headquarters in Canada, and distribution located in three regions of the United States , ComforTek is well positioned to help make any audience comfortable. Products are designed to accommodate guests in a wide variety of market applications. Whether the desire is to enhance learning (classroom settings), provide for high quality medical care (health care clinics), accommodate large groups of people (religious venues) or merely to provide for a moment's relaxation (break rooms), ComforTek's diverse products will serve well for many, many years. You will appreciate these products for their value, durability, versatility and superb feel and comfort! That's the Comfor Tek Advantage.
Weight: 20 lbs
Width: 20"
Height: 34 1/2"
Length: 24 1/4"
Church Partner Contact Information