Clear Drip Protectors, Moulded - 2-3/4" x 3/8"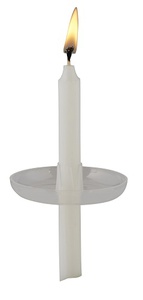 Item Number: WB-B1371
Manufacturer SKU: B1371
Regular Price:

$23.95

Your Price:

$19.95

(17% savings)

Closeout Price: $15.00

(37% savings)
Clear, flame-resistant bobeches with unique holding mechanism that adjusts to fit your candles. Specifically designed to fit Will & Baumer®'s 1/2" straight side devotional candles, these bobeches are also fit around Orthodox tapers and other processional candles.
For best results, insert your candle from the bottom and pull through. If you've pulled the candle up too far, please continue to pull the candle all the way out and then re-insert your candle from the bottom. This will ensure the longevity of the bobeche.
Candles sold separately.
Material: Moulded
Size: 2-3/4" Dia x 3/8" H
50 Drip Protectors
Works excellently with 1/2" candles.
Our apologies, but this item is non-returnable.

Over 155 years old, the Will & Baumer tradition of high quality candle products continues today with their commitment to excellence and the flexibility to meet ever changing needs. Located in upstate New York they have recently opened a new manufacturing and distribution center just south of Nashville, Tennessee.
Church Partner Contact Information