Participant Book Fearless Conversation: Is God in Control of My Life?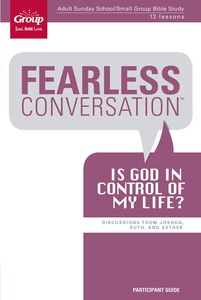 Item Number: 147-071-6844
Manufacturer SKU: 978-1-4707-1684-4
Regular Price:

$3.99

Your Price:

$3.39

(15% savings)
Dig deep into what the Bible has to say.
Discussions from Joshua, Ruth, Esther
13 weeks of engaging conversation about how God guides and leads His people based on Bible accounts from Joshua, Ruth, and Esther.
This participant book contains Bible commentaries, discussion questions, and all the Scripture readings (NIV) for each lesson.

If your church does it, they've probably got it. It's been said that tool companies don't sell drills; they sell holes. The same goes for Group. They don't just sell books, curriculum, training, Bibles, software, etc. They're in the business of making you even better at what you do in ministry. They want you to feel joy and fulfillment as you connect people with Jesus. That said, Group does offer a wide range of resources and services for just about every area of church ministry: children's ministry, youth ministry, adult small groups, women's ministry, pastoral ministry, and more.
Publisher: Group Publishing
Pages: 96
Format: Paperback
Church Partner Contact Information