Custom-Made Premium Pew Reservation Ropes with Optional Tassels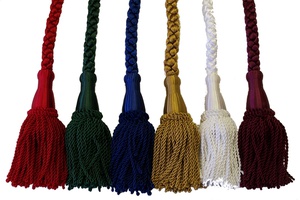 Item Number: PR50

These custom-made premium pew ropes with tasseled ends offer the greatest flexibility for cordoning off an area. They can be moved to reserve any pew or group of pews. No permanent fixtures required. Available in 6 different colors and custom cut to the length of your choice.
Each pew rope is 1/2" in diameter
Order in one (1) foot increments up to a maximum length of 50 feet
Made of heavy lustrous rayon and cotton
Available in: maroon, white, gold, red, blue and green
Optional tassels (We strongly recommend that you get the ropes with the tassels. Untasseled ropes will have the ends simply cut off and taped to prevent fraying.)
We recommend ordering one 4' rope for each pew you are wanting to cordon off
PLEASE ALLOW UP TO 3 WEEKS FOR DELIVERY, COULD BE SOONER AS ORDERS ARE FULFILLED.
BECAUSE THESE PEW ROPES ARE CUSTOM MADE, THEY ARE NOT RETURNABLE - SO PLEASE MAKE SURE THAT YOU SELECT THE CORRECT LENGTH.
Our apologies, but this item is non-returnable.
Church Partner Contact Information