My First Catechism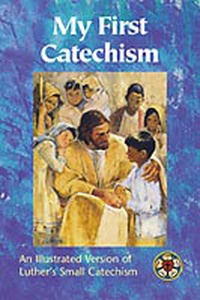 Item Number: 22-3052
Manufacturer SKU: 223052
Regular Price:

$12.99

Your Price:

$12.34

(5% savings)
Introduce children to the teachings of Martin Luther with My First Catechism: An Illustrated Version of Luther's Small Catechism. This keepsake-quality book uses accounts of biblical characters joined with engaging artwork to help children relate the meaning of the Commandments, Creeds, Lord's Prayer, and more to their lives. Written in kid-friendly language, this book will urge children ages 6-10 to learn more about their Lutheran faith.
Reinforce biblical lessons from My First Catechism with engaging activities in the My First Catechism Activity Book. Answers for activities can be found in the My First Catechism Activity Book Answer Key.

Concordia Publishing House, where words have been our business and faith our inspiration for more than 139 years. We are the publisher of The Lutheran Church—Missouri Synod, and we are dedicated to spreading the Gospel message of Jesus Christ throughout the world.
Publisher: Concordia Publishing House
Author: Martin Luther
Binding: Hardback
Pages: 128
Publication Date: 2004
Series: Luther's Catechism
Church Partner Contact Information