ESV God's Action Plan Teacher Guide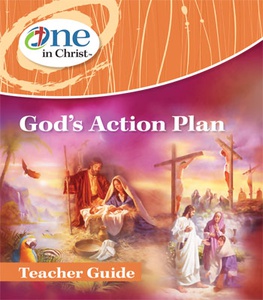 Item Number: 63-0907
Manufacturer SKU: 630907
This resource can be used with confirmation students to review Old & New Testament Bible stories to create a framework for study of the catechism and its teachings.
Regular Price:

$39.99

Your Price:

$37.99

(5% savings)
This Bible survey includes thirty Bible stories focused on God's unfolding plan of salvation as revealed in Holy Scripture.
The Teacher Guide includes lesson plans that contain:
Background reading for the teacher
A classroom devotion
Central Truth
Teaching Objectives
Materials Listing
Bible Prep for Students
Each lesson is developed through three sections: Into the Lesson, Into the Word, and Into our Lives. The lesson plan includes a reduced version of the Student Book pages with answers. The guide also includes reproducible activity sheets and unit tests.
The course is arranged in four units, with a total of 30 lessons:
Unit 1—God's Grace to His People in Ancient Times
Unit 2—God Blesses a Nation
Unit 3—Jesus Comes to Serve
Unit 4—Jesus Saves—Good News to Share
This course can be used with Applying Luther's Catechism for a two-year course of confirmation instruction.

Concordia Publishing House, where words have been our business and faith our inspiration for more than 139 years. We are the publisher of The Lutheran Church—Missouri Synod, and we are dedicated to spreading the Gospel message of Jesus Christ throughout the world.
Publisher: Concordia Publishing House
Binding: Spiral Bound
Pages: 112
Publication Date: 2012
Series: God's Action Plan
Version: ESV (English Standard Version)
Church Partner Contact Information