Speed Sketch Upper Elementary Student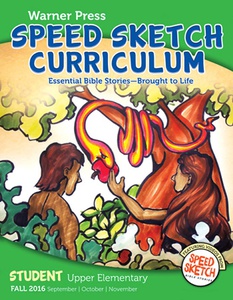 Item Number: K1081
Manufacturer SKU: K1081
Regular Price:

$5.99

Your Price:

$5.39

(10% savings)
Order one per Student.
Ages: 10 - 12
Time: Each classroom lesson is 45-60 minutes long, including time to watch the video
Format: Classroom or Group
Translation: Curriculum uses NIV translation; Videos use an English children's paraphrase with the Scripture reading in NIV
Fall Quarter's Stories:
Joseph Taken to Egypt Genesis 37:1-36
Joseph in Prison Genesis 39-40
Joseph Interprets Pharaoh's Dreams Genesis 41:1-45
Joseph Reunites with His Family Genesis 42-46
Rahab Helps the Spies Joshua 2; 6:22-25
Joshua Leads the People Joshua 3-4
Deborah Gives the Call Joshua 4:1-16
Gideon Leads the Battle Joshua 6-7
The Vegetable Test Daniel 1
Nebuchadnezzar's Dream Daniel 2
The Fiery Furnace Daniel 3
The Writing on the Wall Daniel 5
The Lion's Den Daniel 6
Jacob Wrestles/Jacob & Esau Peace (Gen 32-33)

Since the inception of Warner Press and the founding of the Church of God Reformation Movement, their ministry has been to reach out and touch lives with products that communicate the message of Jesus Christ. Warner Press continues the publishing work of the early church by producing a wide variety of religious products. Warner Press provides the church with bulletins, church supplies, children's products and box card assortments.
Church Partner Contact Information