NIV This Is the Feast Teacher Guide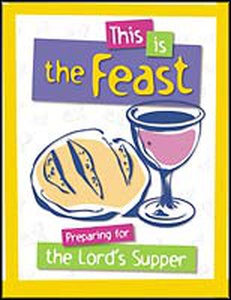 Item Number: 22-3011
Manufacturer SKU: 223011
Regular Price:

$12.99

Your Price:

$12.34

(5% savings)
Overview
This Is the Feast is an eight-session confirmation supplement for pastors that encourages parents to get involved in their children's preparation for Communion. Designed to be used alone or as part of an instructional program with another series, This Is the Feast is written in an easy-to-read format and focuses on spiritual preparation for Holy Communion. Insightful questions and answers motivate students to dig into God's Word and apply Scriptural truths to their lives.
Features:
Covers important topics such as the blessings of Baptism, grace and Gospel, the spiritual significance of the Lord's Supper, confirmation, and many others
Memorization assignments and parent-child discussion topics
Classical works of art
Brief "Reader's Theater" sketches that creatively introduce the session focus
Take-home conversation topics that reinforce curriculum topics
Can be used for First Communion or early Communion instruction

Concordia Publishing House, where words have been our business and faith our inspiration for more than 139 years. We are the publisher of The Lutheran Church—Missouri Synod, and we are dedicated to spreading the Gospel message of Jesus Christ throughout the world.
Publisher: Concordia Publishing House
Church Partner Contact Information