Emotionally Healthy Relationships Video Study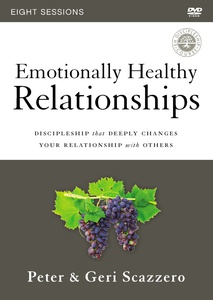 Item Number: 031-008-1937
Manufacturer SKU: 9780310081937
In this eight-session video Bible study, Pete and Geri Scazzero provide you with the necessary practical skills for your spiritual formation journey so that you can grow into an emotionally and spiritually mature follower of Jesus.
Regular Price:

$39.99

Your Price:

$33.99

(15% savings)
In this eight-session video, Pete and Geri Scazzero directly address core biblical principles to guide you and others into an experience of discipleship that will deeply change your life. This DVD is part of the Emotionally Healthy (EH) Relationships Course that also includes the Emotionally Healthy Relationships Workbook and the Emotionally Healthy Relationships Day by Day devotional.
Sessions include:
Take Your Community Temperature Reading (26:00)
Stop Mind Reading and Clarify Expectations (21:00)
Genogram Your Family (24:00)
Explore the Iceberg (18:00)
Listen Incarnationally (24:00)
Climb the Ladder of Integrity (22:00)
Fight Cleanly (17:00)
Develop a "Rule of Life" to Implement Emotionally Healthy Skills (8:00)

Zondervan is an international Christian communications company with a heart for helping people find and follow Jesus Christ by inspiring them with relevant biblical and spiritual resources. They do this through their bestselling, award-winning, and life-changing products. Zondervan leads the way in Bible and book publishing, and they continue to expand their resource offering. They are working to become an even greater contributor to the international Christian marketplace. Today they offer a wide variety of resources for all ages. Their products include Bibles, books, audio resources, ebooks, videos, CD-ROMs, digital downloads, and inspirational gifts.
Church Partner Contact Information