Emotionally Healthy Relationships Day By Day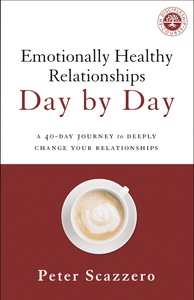 Item Number: 031-034-9594
Manufacturer SKU: 9780310349594
Emotionally Healthy Relationships Day by Day is centered on a life-transforming rhythm of intentionally and daily pausing to be deeply present with God.
Regular Price:

$12.99

Your Price:

$11.04

(15% savings)
In this groundbreaking devotional book, Peter Scazzero reintroduces and expands upon the ancient spiritual discipline of the Daily Office.
The basic premise is simple: Christians need to intentionally stop to be with God twice each day to create a continual and easy familiarity with God's presence for the rest of the day.
In the same powerful rhythm as Emotionally Healthy Spirituality Day by Day, each day offers two Daily Offices—Morning/Midday and Midday/Evening—where each devotional time will reflect on emotionally healthy relational themes, such as clarifying expectations, deep listening, and clean fighting. Readers will be ushered into a transformational practice that will deepen their daily walk with Jesus.

Zondervan is an international Christian communications company with a heart for helping people find and follow Jesus Christ by inspiring them with relevant biblical and spiritual resources. They do this through their bestselling, award-winning, and life-changing products. Zondervan leads the way in Bible and book publishing, and they continue to expand their resource offering. They are working to become an even greater contributor to the international Christian marketplace. Today they offer a wide variety of resources for all ages. Their products include Bibles, books, audio resources, ebooks, videos, CD-ROMs, digital downloads, and inspirational gifts.
Church Partner Contact Information