Way of Life Participant Guide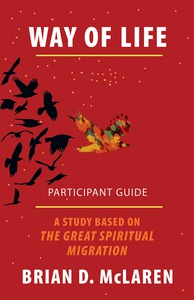 Item Number: 150-184-7691
Manufacturer SKU: 9781501847691
Regular Price:

$12.99

Your Price:

$10.39

(20% savings)
The study Way of Life will help groups approach and engage the spiritual, theological, and missional proposals in Brian McLaren's book The Great Spiritual Migration.
This participant guide provides an introduction to the main text and can also stand alone with additional commentary and questions. The book also contains new content from Brian McLaren, including personal devotionals written to accompany each section.

Abingdon Press is an imprint of The United Methodist Publishing House, in operation since 1789. In the early 1920s, Abingdon began publishing a wide array of high-caliber academic, professional, inspirational, and life-affirming religious literature to enrich church communities across the globe. Now beginning its ninth decade, Abingdon Press has a commitment to providing the best, most effective religious publications available.
Publisher: Abingdon Press
Church Partner Contact Information