John: 26 Studies for Individuals and Groups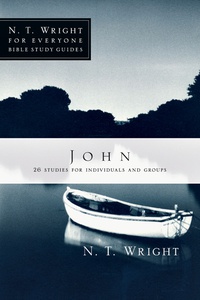 Item Number: 083-082-1846
Manufacturer SKU: 978-0-8308-2184-6
When you read detective stories, you quickly learn that what may look like an irrelevant little detail may actually be the clue to solving the mystery. A good writer will put in all kinds of detail; nothing is there by accident. Nothing in John's Gospel is there by accident either. And all the details in John are designed ultimately to come together. In these studies we discover the clues John gives that we might see even more clearly the reality of who Jesus is, the new creation he inaugurates and the difference that all makes.
Regular Price:

$10.00

Your Price:

$8.50

(15% savings)
CONTENTS
1. John 1:1-18 The Word Made Flesh
2. John 1:19-51 The Evidence of John and the First Disciples
3. John 2:1-25 Water Into Wine
4. John 3:1-36 Jesus and Nicodemus
5. John 4:1-42 The Woman of Samaria
6. John 4:43-5:9a The Healings
7. John 5:9b-47 Jesus and Moses
8. John 6:1-25 Feeding the Five Thousand and Walking on Water
9. John 6:26-71 Eating and Drinking the Son of Man
10. John 7:1-52 Teaching about the Messiah
11. John 7:53-8:29 The Light of the World
12. John 8:30-59 The Truth Will Make You Free
13. John 9:1-41 The Man Born Blind
14. John 10:1-42 The Good Shepherd
15. John 11:1-57 The Raising of Lazarus
16. John 12:1-50 The Hour Has Come
17. John 13:1-38 Washing the Disciple?s Feet
18. John 14:1-31 Another Helper
19. John 15:1-27 The True Vine
20. John 16: 1-33 The Spirit and the World
21. John 17:1-26 Jesus Prays
22. John 18:1-27 The Arrest of Jesus and Peter?s Denial
23. John 19:1-24 The King of the Jews
24. John 19:25-42 The Death and Burial of Jesus
25. John 20:1-31 The Risen Jesus
26. John 21:1-25 Breakfast by the Shore

Located in Westmont, Illinois, InterVarsity Press has been publishing excellent Christian books for more than 50 years. Our current publishing program is focused on three imprints: 1) IVP Books offers general-interest books in categories like Christian living, discipleship, evangelism, missions, apologetics and cultural critique. 2) IVP Academic offers books designed for research and classroom use in areas such as biblical studies, theology, philosophy, science and psychology. 3) IVP Connect offers study guides, multimedia curriculum and foundational resources for churches and small groups.
This item can be returned to ChurchPartner as long as it has not been used, corners are not tattered or curled and is in its original packaging. All returns must be shipped back within 30 days of purchase for a full refund or exchange. All damaged product must be reported within 7 days of receipt. You are responsible for all shipping costs back to our warehouse unless the product was damaged in shipping. Please call us at 800-572-0550 and receive a Return Authorization number to ensure proper credit for the returned item. All credits will be distributed in the same manner as it was originally charged (i.e. credit card credits will be made to the same credit card used for purchase). All credits, with the exception of damaged items, will be for the product cost only, and will not include original shipping charges. Items must be received in resalable condition for credits to be issued. Items damaged during shipping back to our warehouse is the responsibility of the sender and, therefore, you are required to contact the shipping company and settle any disputes. Item returned without a Return Authorization number can be delayed in processing and credits might take 30 days or longer to process.
Publisher: InterVarsity Press
Author: N. T. Wright With Kristie Berglund
Pages: 144
Format: Paperback
Publication Date: November 2009
Church Partner Contact Information