Acts: 26 Studies for Individuals and Groups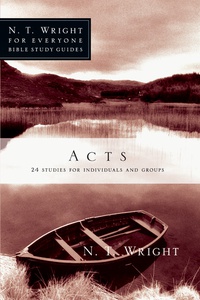 Item Number: 083-082-1853
Manufacturer SKU: 978-0-8308-2185-3
The mysterious presence of Jesus haunts the whole story of Acts. Jesus is announced as King and Lord, not as an increasingly distant memory but as a living and powerful reality, a person who can be known and loved, obeyed and followed, a person who continues to act within the real world. We call the book "The Acts of the Apostles," but we should think of it as "The Acts of Jesus (II)." These studies from Tom Wright help us to do so, and to see how Jesus' acts through the apostles inform our acts today.
Regular Price:

$10.00

Your Price:

$8.50

(15% savings)
CONTENTS
Getting the Most Out of Acts
Suggestions for Individual Study
Suggestions for Group Members
Map of the Eastern Mediterranean

1 Luke's Story Continues Acts 1:1-26
2 Wind and Fire Acts 2:1-41
3 Restoration and Refreshment Acts 2:42-3:26
4 Clash of Loyalties Acts 4:1-31
5 The New Community Acts 4:32-5:42
6 The Family Widens Acts 6:1-15
7 Stephen Tells the Story Acts 7:1-8:3
8 A Magician and a Finance Minister Acts 8:4-40
9 Saul Encounters Jesus Acts 9:1-31
10 God Shows No Favoritism Acts 9:32-10:48
11 Controversy and Vindication Acts 11:1-30
12 The True King Rules Acts 12:1-25
13 To Jews First and Gentiles Also Acts 13:1-52
14 Open Doors and Opposition Acts 14:1-28
15 Dealing with Disputes Acts 15:1-41
16 Into New Territory Acts 16:1-40
17 Among the Philosophers Acts 17:1-34
18 Staying Put and Traveling On Acts 18:1-28
19 Clash of Powers at Ephesus Acts 19:1-41
20 Meetings and Farewells Acts 20:1-21:14
21 Showdown in Jerusalem Acts 21:15-22:30
22 Schemes and Rescues Acts 23:1-24:27
23 "I Appeal to Caesar" Acts 25:1-26:32
24 The Voyage to Rome Acts 27:1-28:31

Guidelines for Leaders

Located in Westmont, Illinois, InterVarsity Press has been publishing excellent Christian books for more than 50 years. Our current publishing program is focused on three imprints: 1) IVP Books offers general-interest books in categories like Christian living, discipleship, evangelism, missions, apologetics and cultural critique. 2) IVP Academic offers books designed for research and classroom use in areas such as biblical studies, theology, philosophy, science and psychology. 3) IVP Connect offers study guides, multimedia curriculum and foundational resources for churches and small groups.
This item can be returned to ChurchPartner as long as it has not been used, corners are not tattered or curled and is in its original packaging. All returns must be shipped back within 30 days of purchase for a full refund or exchange. All damaged product must be reported within 7 days of receipt. You are responsible for all shipping costs back to our warehouse unless the product was damaged in shipping. Please call us at 800-572-0550 and receive a Return Authorization number to ensure proper credit for the returned item. All credits will be distributed in the same manner as it was originally charged (i.e. credit card credits will be made to the same credit card used for purchase). All credits, with the exception of damaged items, will be for the product cost only, and will not include original shipping charges. Items must be received in resalable condition for credits to be issued. Items damaged during shipping back to our warehouse is the responsibility of the sender and, therefore, you are required to contact the shipping company and settle any disputes. Item returned without a Return Authorization number can be delayed in processing and credits might take 30 days or longer to process.
Publisher: InterVarsity Press
Author: N. T. Wright, Dale Larsen, and Sandy Larsen
Pages: 128
Format: Paperback
Publication Date: August 2010
Church Partner Contact Information