John Stott Bible Studies: Ephesians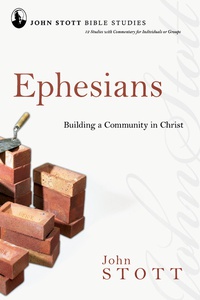 Item Number: 083-082-1631
Manufacturer SKU: 978-0-8308-2163-1
We long to belong. We crave unity. We want to be loved and accepted by others. Paul's letter to the Ephesians is about uniting all things in Christ. Here we learn how to break down what separates us from God, one ethnic group from another, husband from wife, parent from child, employer from employee. These studies provide a vision of the new society God has planned in his church.
Regular Price:

$9.00

Your Price:

$7.65

(15% savings)
CONTENTS
Introducing Ephesians
1. A Life of Spiritual Blessing - Ephesians 1:1-14
2. A Life of Prayer - Ephesians 1:15-23
3. A Life of Resurrection - Ephesians 2:1-10
4. A New Humanity - Ephesians 2:11-22
5. A New Ministry - Ephesians 3:1-13
6. A New Confidence - Ephesians 3:14-21
7. Unity - Ephesians 4:1-16
8. Purity - Ephesians 4:17-5:4
9. Righteousness - Ephesians 5:5-21
10. Love - Ephesians 5:21-33
11. Respect - Ephesians 6:1-9
12. Power - Ephesians 6:10-24

Guidelines for Leaders

Located in Westmont, Illinois, InterVarsity Press has been publishing excellent Christian books for more than 50 years. Our current publishing program is focused on three imprints: 1) IVP Books offers general-interest books in categories like Christian living, discipleship, evangelism, missions, apologetics and cultural critique. 2) IVP Academic offers books designed for research and classroom use in areas such as biblical studies, theology, philosophy, science and psychology. 3) IVP Connect offers study guides, multimedia curriculum and foundational resources for churches and small groups.
This item can be returned to ChurchPartner as long as it has not been used, corners are not tattered or curled and is in its original packaging. All returns must be shipped back within 30 days of purchase for a full refund or exchange. All damaged product must be reported within 7 days of receipt. You are responsible for all shipping costs back to our warehouse unless the product was damaged in shipping. Please call us at 800-572-0550 and receive a Return Authorization number to ensure proper credit for the returned item. All credits will be distributed in the same manner as it was originally charged (i.e. credit card credits will be made to the same credit card used for purchase). All credits, with the exception of damaged items, will be for the product cost only, and will not include original shipping charges. Items must be received in resalable condition for credits to be issued. Items damaged during shipping back to our warehouse is the responsibility of the sender and, therefore, you are required to contact the shipping company and settle any disputes. Item returned without a Return Authorization number can be delayed in processing and credits might take 30 days or longer to process.
Publisher: InterVarsity Press
Author: John Stott
Pages: 64
Format: Paperback
Publication Date: May 2008
Church Partner Contact Information