Mark: Follow Me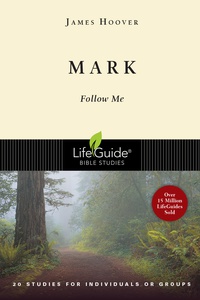 Item Number: 083-083-0046
Manufacturer SKU: 978-0-8308-3004-6
In the New Testament Gospel of Mark, we meet Jesus, the man who is King. But this king comes to serve--not to be served. He eats with sinners rather than royalty. His crown is made of thorns instead of gold. This study guide introduces you to the compassionate, suffering, astonishing king who calls us to follow him.
Regular Price:

$10.00

Your Price:

$7.65

(24% savings)
CONTENTS
Getting the Most Out of Mark

Part 1: Who Is Jesus? - Mark 1--8
1. Gospel Roots - Mark 1:1-13
2. Portraits of Jesus - Mark 1:14-39
3. Friend of Outcasts - Mark 1:40--2:17
4. Conflict in Galilee - Mark 2:18--3:35
5. Kingdom Parables - Mark 4:1-34
6. Fear Faith - Mark 4:35--6:6
7. Understanding the Loaves - Mark 6:6-52
8. Violating Tradition - Mark 6:53--7:37
9. Who Do You Say I Am? - Mark 8:1--9:1

Part 2: Why Did Jesus Come? - Mark 9--16
10. Suffering Glory - Mark 9:2-32
11. The First the Last - Mark 9:33-50
12. New Relationships - Mark 10:1-31
13. Blindness Sight - Mark 10:32-52
14. Palm Sunday - Mark 11:1-25
15. Tempting Questions - Mark 11:27--12:27
16. An End to Questions - Mark 12:28-44
17. Keep Watch - Mark 13
18. The Betrayer Approaches - Mark 14:1-42
19. Betrayed! - Mark 14:43-72
20. Victory Snatched from Defeat - Mark 15--16

Leader's Notes
Publisher: InterVarsity Press
ISBN: 978-0-8308-3004-6
Author: James Hoover
Pages: 112
Format: Paperback
Publication Date: June 1999
This item can be returned to ChurchPartner as long as it has not been used, corners are not tattered or curled and is in its original packaging. All returns must be shipped back within 30 days of purchase for a full refund or exchange. All damaged product must be reported within 7 days of receipt. You are responsible for all shipping costs back to our warehouse unless the product was damaged in shipping. Please call us at 800-572-0550 and receive a Return Authorization number to ensure proper credit for the returned item. All credits will be distributed in the same manner as it was originally charged (i.e. credit card credits will be made to the same credit card used for purchase). All credits, with the exception of damaged items, will be for the product cost only, and will not include original shipping charges. Items must be received in resalable condition for credits to be issued. Items damaged during shipping back to our warehouse is the responsibility of the sender and, therefore, you are required to contact the shipping company and settle any disputes. Item returned without a Return Authorization number can be delayed in processing and credits might take 30 days or longer to process.

Located in Westmont, Illinois, InterVarsity Press has been publishing excellent Christian books for more than 50 years. Our current publishing program is focused on three imprints: 1) IVP Books offers general-interest books in categories like Christian living, discipleship, evangelism, missions, apologetics and cultural critique. 2) IVP Academic offers books designed for research and classroom use in areas such as biblical studies, theology, philosophy, science and psychology. 3) IVP Connect offers study guides, multimedia curriculum and foundational resources for churches and small groups.
Church Partner Contact Information