The Message of Ezra & Haggai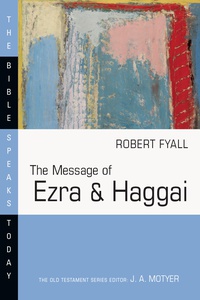 Item Number: 083-082-4328
Manufacturer SKU: 978-0-8308-2432-8
Regular Price:

$18.00

Your Price:

$15.30

(15% savings)
Ezra is rarely if ever preached on. Haggai gets even shorter shrift: if anything, Haggai 1 is pressed into service to encourage a reluctant congregation to give to an ailing fabric fund. But the message of these books, and their emphasis on building for God and the need of obedience to his Word and openness to his Spirit, is one which needs to be heard clearly today.
This commentary by Robert Fyall highlights the contemporary parallels of the challenges Israel faced to those of today's church and demonstrates the relevance of the books of Ezra and Haggai for God's people in all times. With passage-by-passage exposition of the biblical text, this resource will be helpful for pastors, teachers and anyone who wants to dive deeper into these seldom discussed Old Testament books.
CONTENTS
General preface
Author's preface
Chief abbreviations
Bibliography

Ezra
Introduction
1. The ransomed of the Lord return (1:1-11)
2. What's in a name? (2:1-70)
3. Getting priorities right (3:1-6)
4. Starting to take shape (3:7-13)
5. The vultures gather (4:1-24)
6. God's work cannot be stopped (5:1-17)
7. The king and the King (6:1-22)
8. God's man arrives (7:1-10)
9. The king's heart is in the hand of the Lord (7:11-28)
10. Another Exodus (8:1-36)
11. Faithless people: faithful God (9:1-15)
12. Not a happy ending (10:1-44)

Haggai
Introduction
1. When are we to build? (1:1-2)
2. A wake-up call (1:3-11)
3. At the centre (1:12-15)
4. Better days are coming! (2:1-9)
5. Count your blessings (2:10-19)
6. The best is yet to be (2:20-23)

Located in Westmont, Illinois, InterVarsity Press has been publishing excellent Christian books for more than 50 years. Our current publishing program is focused on three imprints: 1) IVP Books offers general-interest books in categories like Christian living, discipleship, evangelism, missions, apologetics and cultural critique. 2) IVP Academic offers books designed for research and classroom use in areas such as biblical studies, theology, philosophy, science and psychology. 3) IVP Connect offers study guides, multimedia curriculum and foundational resources for churches and small groups.
Publisher: InterVarsity Press
Author: Robert Fyall
Pages: 190
Format: Paperback
Publication Date: December 2010
Church Partner Contact Information