The Message of Nehemiah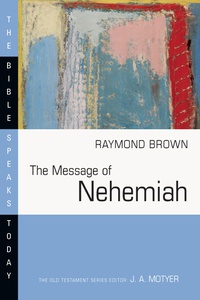 Item Number: 083-081-2424
Manufacturer SKU: 978-0-8308-1242-4
The book of Nehemiah is about starting over again. Nehemiah, one of Israel's great leaders, tells firsthand the powerful story of the rebuilding of ancient Jerusalem's walls after the exile. This rebuilding, in the face of great odds, represented the people's renewal of faith, their overcoming of national shame and the reforming of their conduct.
Regular Price:

$21.00

Your Price:

$17.85

(15% savings)
In sizing up Nehemiah the man, Raymond Brown surmises: "He must surely be regarded as one of the most inventive and resilient personalities in the rich tapestry of Old Testament biography."
Brown vividly sketches Nehemiah's historical and social setting and demonstrates the striking relevance for today of his dominant themes: Nehemiah's doctrine of God, his passion for Scripture, his experience of prayer and his example of leadership.
CONTENTS
General Preface

Author's Preface

Bibliography

Introduction

A. Rebuilding the Walls - 1:1 - 7:73
1. The servant's preparation - 1:1-11
2. The servant's guidance - 2:1-10
3. The servant's strategy - 2:11-20
4. The servant's partners - 3:1-32
5. The servant's confidence - 4:1-23
6. The servant's compassion - 5:1-19
7. The servant's protection - 6:1-19
8. The servant's convictions - 7:1-73

B. Reforming the Community - 8:1-13:31
9. 'Bring Out the Book' - 8:1-18
10. Discovering more about God - 9:1-37
11. 'But in your great mercy' - 9:1-37
12. 'Making a binding agreement' - 9:38-10:29
13. Being specific - 10:30-39
14. Vocal archives - 11:1-12:26
15. Our 'chief end' - 12:27-47
16. 'There it was found written' - 13:4-31
17. Temple, market-place and home - 13:4-31
18. Patterns of leadership - 13:4-31

Located in Westmont, Illinois, InterVarsity Press has been publishing excellent Christian books for more than 50 years. Our current publishing program is focused on three imprints: 1) IVP Books offers general-interest books in categories like Christian living, discipleship, evangelism, missions, apologetics and cultural critique. 2) IVP Academic offers books designed for research and classroom use in areas such as biblical studies, theology, philosophy, science and psychology. 3) IVP Connect offers study guides, multimedia curriculum and foundational resources for churches and small groups.
Publisher: InterVarsity Press
Author: Raymond Brown
Pages: 256
Format: Paperback
Publication Date: September 1998
Church Partner Contact Information