The Message of Zechariah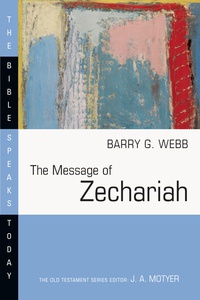 Item Number: 083-082-4304
Manufacturer SKU: 978-0-8308-2430-4
The study of the book of Zechariah is bound to be enriching, for it is imbued from beginning to end with the same heart-cry that Jesus turned into a prayer for all of us: "Your kingdom come."
Regular Price:

$17.00

Your Price:

$14.45

(15% savings)
Barry G. Webb explores the kingdom of God as the prophet Zechariah apprehended it. In oracles and visions Zechariah challenged his hearers
to return to the coming kingdom
to cleanse themselves in anticipation of the cleansing fountain of God's grace
to restore the city of Jerusalem in preparation for its coming glorification
The promises of God in the book of Zechariah are meant to fu
themes and issues, expounded here with clarity and conviction, which are especially relevant to today's church and world.
CONTENTS
General Preface

Preface

Chief Abbreviations

Bibliography

Introduction
Zechariah's World
Zechariah Himself
The Book of Zechariah
Its Structure
Its Message
The Unity of Zechariah
Zechariah, Jesus and Us
One Final Comment
The Nature of Prophecy

Part 1: The Kingdom Prelude - Zechariah 1--6
A Call to Return to the Lord
Vision 1: The Man Among the Myrtle Trees
Vision 2: Four Horns and Four Craftsmen
Vision 3: A Man with a Measuring Line
Vision 4: Clean Garments for the High Priest
Vision 5: The Gold Lampstand and the Two Olive Trees
Vision 6: The Flying Scroll
Vision 7: The Woman in a Basket
Vision 8: Four Chariots
The Crowning of Joshua the High Priest

Part 2: Kingdom Consummation - Zechariah 7--14
A Call for True Fasting
The Question: Should We Continue to Fast?
False Fasting
The Kind of Fasting God Requires
The Lord Promises to Bless Jerusalem
Reasons for Celebration Now
Reasons for Celebration Then--in "Those" Days
Through Suffering to Glory
Oracle 1: God's Rule and Human Leaders
The Coming of the Warrior God
The Coming of the King
God's People Share in His Victory
True and False Shepherds
Two Shepherds: An Enacted Parable
Oracle 2: Day of Destiny in Jerusalem
Jerusalem's Enemies to Be Destroyed
Mourning for the One They Pierced
Cleansing from Sin
The Shepherd Struck, the Sheep Scattered
Let There Be Light! Zechariah 12--13 and the New Testament
The Lord Comes and Reigns

Located in Westmont, Illinois, InterVarsity Press has been publishing excellent Christian books for more than 50 years. Our current publishing program is focused on three imprints: 1) IVP Books offers general-interest books in categories like Christian living, discipleship, evangelism, missions, apologetics and cultural critique. 2) IVP Academic offers books designed for research and classroom use in areas such as biblical studies, theology, philosophy, science and psychology. 3) IVP Connect offers study guides, multimedia curriculum and foundational resources for churches and small groups.
Publisher: InterVarsity Press
Author: Barry G. Webb
Pages: 188
Format: Paperback
Publication Date: December 2003
Church Partner Contact Information