The Message of Mark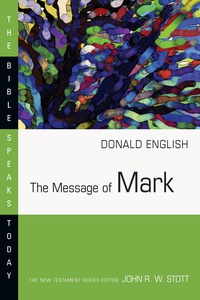 Item Number: 083-081-2318
Manufacturer SKU: 978-0-8308-1231-8
Regular Price:

$21.00

Your Price:

$17.85

(15% savings)
The fast-paced vitality of Mark's narrative of Jesus wins the hearts of modern readers on its own terms. (No small achievement for a Greco-Roman biogragraphy of an ancient sage.) And like any great story, it unveils its meaning to those who listen attentively, who inquire patiently and who brood on its meaning and significance.
Donald English has lived with Mark's story for a long time. He has now written a wise, welcoming and nontechnical guide to the narrative and the message of this smallest of the four Gospels. Whether gazing over the Evangelist's shoulder, or taking the actor's stance or adopting the audience's perspective, he writes as one who loves and understands the story. And he writes as one who has a passion to help others appreciate Mark's portrait of Jesus--Son of Man and Son of God.
CONTENTS
General preface
Author's preface
Abbreviations
Bibliography
Introduction
1. The beginning - 1:1-13
2. The ministry opens up - 1:14-3:6
3. Words and deeds in Galilee - 3:7-6:13
4. Missionary outreach beyond Galilee in spite of the disciples' limitations - 6:14-8:26
5. Going to Jerusalem - 8:27-10:52
6. Jesus enters Jerusalem - 11:17-13:37
7. Passion and resurrection - 14:1-16:20

Located in Westmont, Illinois, InterVarsity Press has been publishing excellent Christian books for more than 50 years. Our current publishing program is focused on three imprints: 1) IVP Books offers general-interest books in categories like Christian living, discipleship, evangelism, missions, apologetics and cultural critique. 2) IVP Academic offers books designed for research and classroom use in areas such as biblical studies, theology, philosophy, science and psychology. 3) IVP Connect offers study guides, multimedia curriculum and foundational resources for churches and small groups.
Publisher: InterVarsity Press
Author: Donald English
Pages: 254
Format: Paperback
Publication Date: November 1992
Church Partner Contact Information