The Message of John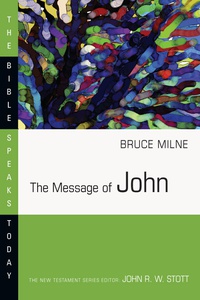 Item Number: 083-081-2332
Manufacturer SKU: 978-0-8308-1233-2
John's Gospel has long been a favorite among Christians. In it the truth of God in Christ is displayed in both childlike simplicity and penetrating depth.
Regular Price:

$23.00

Your Price:

$19.55

(15% savings)
John the disciple of Jesus had known the Word of God incarnate. John the pastor and evangelist had contemplated the meaning of that unique person and event. Through the eyes of faith John retells the story of the Word, drawing out its meaning for his contemporaries so that they "might come to believe that Jesus is the Messiah, the Son of God" and "have life in his name."
True to his mentor, the Fourth Evangelist, Bruce Milne has a passion for passing on this Word and helping others respeak it. As Milne puts it, "The mystery of Jesus Christ is the theme of this gospel; always beyond us, yet always summoning us to explore it more fully."
CONTENTS
General preface

Author's preface

Bibliography

Abbreviations

Introduction
1. Authorship
2. John and the synoptics
3. Purpose and date
4. John and Jesus

The Gospel of John
A. The ministry of the pre-incarnate king - 1:1-18
1. Jesus Christ and the eternal God - 1:1-2
2. Jesus Christ and the created universe - 1:3-5
3. Jesus Christ and redemptive history - 1:6-18
B. The ministry of the incarnate king - 1:19-19:42
1. The inauguration - 1:19-51
2. The procession - 2:1-12:19
3. The coronation - 12:20-19:42
C. The ministry of the risen king - 20:1-21:25
1. The appearing king - 20:1-31
2. The beginning of the mission - 21:1-25

Study guide

Located in Westmont, Illinois, InterVarsity Press has been publishing excellent Christian books for more than 50 years. Our current publishing program is focused on three imprints: 1) IVP Books offers general-interest books in categories like Christian living, discipleship, evangelism, missions, apologetics and cultural critique. 2) IVP Academic offers books designed for research and classroom use in areas such as biblical studies, theology, philosophy, science and psychology. 3) IVP Connect offers study guides, multimedia curriculum and foundational resources for churches and small groups.
Publisher: InterVarsity Press
Author: Bruce Milne
Pages: 352
Format: Paperback
Publication Date: August 1993
Church Partner Contact Information