The Message of 2 Timothy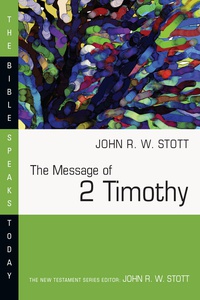 Item Number: 087-784-2958
Manufacturer SKU: 978-0-87784-295-8
Regular Price:

$16.00

Your Price:

$13.60

(15% savings)
John Stott writes, "During the last five years I seem to have lived inside the second letter of Paul to Timothy. In imagination I have sat down beside Timothy and have tried myself to hear and heed this final charge from the aging apostle . . .
"On each occasion I have been impressed afresh by the timeliness of today of what the apostle writes, especially for young Christian leaders. For our era is one of theological and moral confusion, even of apostasy. And the apostle summons us, as he summoned Timothy, to be strong, brave and steadfast."
CONTENTS
Preface
Chief Abbreviations
Introduction
1. The Charge to Guard the Gospel
2. The Charge to Suffer for the Gospel
3. The Charge to Continue In the Gospel
4. The Charge to Preach the Gospel

Located in Westmont, Illinois, InterVarsity Press has been publishing excellent Christian books for more than 50 years. Our current publishing program is focused on three imprints: 1) IVP Books offers general-interest books in categories like Christian living, discipleship, evangelism, missions, apologetics and cultural critique. 2) IVP Academic offers books designed for research and classroom use in areas such as biblical studies, theology, philosophy, science and psychology. 3) IVP Connect offers study guides, multimedia curriculum and foundational resources for churches and small groups.
Publisher: InterVarsity Press
Author: John Stott
Pages: 127
Format: Paperback
Publication Date: September 1984
Church Partner Contact Information