The Message of James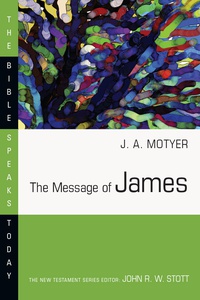 Item Number: 087-784-2927
Manufacturer SKU: 978-0-8778-4292-7
Regular Price:

$18.00

Your Price:

$15.30

(15% savings)
As a good communicator, James addressed his readers directly and pointedly with vivid images from ordinary life and attention-gripping statements.
This rich exposition brings James's letter to life for today's reader. Alec Motyer is himself gripped by James's energy and concern for practical Christianity.The letter shows how a genuine faith is a tested faith, how encounter with difficulties is an essential part of the growth to Christian maturity this book powerfully brings out James's memorable themes--the link between enduring trials and maturity; the question of perfection; the good gifts of God; faith, works and Christian concern in a world of human need; the implications of careless and evil words; the meaning of war; the church and healing; confession of sin; and the need for active purity in life.
CONTENTS
General Preface

Author's preface

Bibliography

Introduction

1. Setting the scene - 1:1
2. The life-giving trial - 1:2-4
3. The way of wisdom - 1:5-11
4. A battle of wills - 1:12-19a
5. The life-giving Word - 1:19b-25
6. Transition: the Father's children - 1:26-27
7. Denying our faith - 2:1-7
8. Obedient faith - 2:8-13
9. The proving of faith - 2:14-26
10. The mater-key- 3:1-12
11. The two wisdoms - 3:13-18
12. The beginning of wisdom - 4:1-10
13. Areas of high risk - 4:11-5:6
14. Enduring to the end - 5:7-12
15. The last word: prayer and care - 5:13-20

Located in Westmont, Illinois, InterVarsity Press has been publishing excellent Christian books for more than 50 years. Our current publishing program is focused on three imprints: 1) IVP Books offers general-interest books in categories like Christian living, discipleship, evangelism, missions, apologetics and cultural critique. 2) IVP Academic offers books designed for research and classroom use in areas such as biblical studies, theology, philosophy, science and psychology. 3) IVP Connect offers study guides, multimedia curriculum and foundational resources for churches and small groups.
Publisher: InterVarsity Press
Author: J. Alec Motyer
Pages: 214
Format: Paperback
Publication Date: October 1985
Church Partner Contact Information