Immersion Bible Studies: Hosea, Joel, Amos, Obadiah, Jonah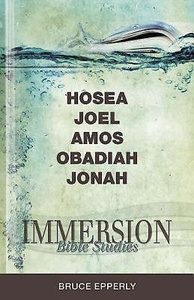 Item Number: 142-671-6393
Manufacturer SKU: 9781426716393
Regular Price:

$12.99

Your Price:

$10.39

(20% savings)
Take a Refreshing Plunge into the Bible
Journey inside the pages of Scripture to meet a personal God who enters individual lives and begins a creative work from the inside out. Shaped with the individual in mind, Immersion encourages simultaneous engagement both with the Word of God and with the God of the Word to become a new creation in Christ.

Immersion, inspired by a fresh translation—the Common English Bible—stands firmly on Scripture and helps readers explore the emotional, spiritual, and intellectual needs of their personal faith. More importantly, they'll be able to discover God's revelation through readings and reflections.

Hosea, Joel, Amos, Obadiah, Jonah has eight sessions.
Publisher: Abingdon Press
Author: Bruce G. Epperly
Pages: 107
Format: Paperback
Publication Date: June 2013

Abingdon Press is an imprint of The United Methodist Publishing House, in operation since 1789. In the early 1920s, Abingdon began publishing a wide array of high-caliber academic, professional, inspirational, and life-affirming religious literature to enrich church communities across the globe. Now beginning its ninth decade, Abingdon Press has a commitment to providing the best, most effective religious publications available.
This item can be returned to ChurchPartner as long as it has not been used, corners are not tattered or curled and is in its original packaging. All returns must be shipped back within 30 days of purchase for a full refund or exchange. All damaged product must be reported within 7 days of receipt. You are responsible for all shipping costs back to our warehouse unless the product was damaged in shipping. Please call us at 800-572-0550 and receive a Return Authorization number to ensure proper credit for the returned item. All credits will be distributed in the same manner as it was originally charged (i.e. credit card credits will be made to the same credit card used for purchase). All credits, with the exception of damaged items, will be for the product cost only, and will not include original shipping charges. Items must be received in resalable condition for credits to be issued. Items damaged during shipping back to our warehouse is the responsibility of the sender and, therefore, you are required to contact the shipping company and settle any disputes. Item returned without a Return Authorization number can be delayed in processing and credits might take 30 days or longer to process.
Church Partner Contact Information