Psalms Volume 2: Life-Changing Lessons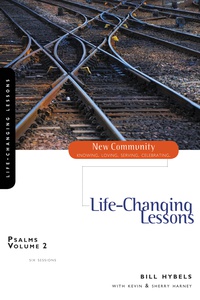 Item Number: 031-028-0484
Manufacturer SKU: 9780310280484
Regular Price:

$9.99

Your Price:

$8.49

(15% savings)
Experience the Transforming Presence of God What if you could look over the shoulders of great saints from the past and learn from their example? Suppose you found a diary that contained the prayers, confessions, and dreams of some of history's most godly people. What might you learn? How might God teach you?
The book of Psalms captures lessons that span the scope of human experience. How do I deal with guilt? Can I overcome fear? What will help me grow to trust God in uncertain times? Where can I find true blessedness? What leads to peace in relationships? These are just some of the life-changing lessons God wants to unfold in your heart as you dig into the teachings of the Psalms.

Zondervan is an international Christian communications company with a heart for helping people find and follow Jesus Christ by inspiring them with relevant biblical and spiritual resources. They do this through their bestselling, award-winning, and life-changing products. Zondervan leads the way in Bible and book publishing, and they continue to expand their resource offering. They are working to become an even greater contributor to the international Christian marketplace. Today they offer a wide variety of resources for all ages. Their products include Bibles, books, audio resources, ebooks, videos, CD-ROMs, digital downloads, and inspirational gifts.
Publisher: Zondervan
Author: Bill Hybels, Kevin G Harney, & Sherry Harney
Pages: 96
Format: Paperback
Publication Date: December 2008
Church Partner Contact Information