2 Corinthians: Serving From The Heart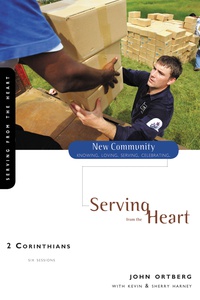 Item Number: 031-028-0545
Manufacturer SKU: 9780310280545
Regular Price:

$9.99

Your Price:

$8.49

(15% savings)
Extend the Compassion and Grace of Jesus Jesus came to serve, sacrifice, and die. His humble lifestyle flies in the face of the conventional wisdom of a society that is fixated on getting more and scraping our way to the top. Not only did the Savior model a life of extraordinary service, he called his followers to join him in this mission.
In 2 Corinthians we find a pathway to Jesus-like living. Paul calls us to align our hearts and lives with the way of the Savior and offer authentic love, amazing grace, extravagant generosity, and humble service. As we do this, we are shaped into the image of the One who served so hard he ended up on a cross.

Zondervan is an international Christian communications company with a heart for helping people find and follow Jesus Christ by inspiring them with relevant biblical and spiritual resources. They do this through their bestselling, award-winning, and life-changing products. Zondervan leads the way in Bible and book publishing, and they continue to expand their resource offering. They are working to become an even greater contributor to the international Christian marketplace. Today they offer a wide variety of resources for all ages. Their products include Bibles, books, audio resources, ebooks, videos, CD-ROMs, digital downloads, and inspirational gifts.
Publisher: Zondervan
Author: John Ortberg, Kevin G Harney, & Sherry Harney
Pages: 96
Format: Paperback
Publication Date: December 2008
Church Partner Contact Information