Daniel: Pursuing Integrity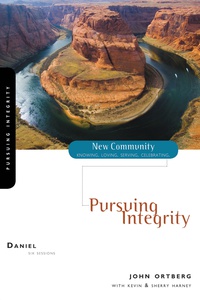 Item Number: 031-028-0538
Manufacturer SKU: 9780310280538
Regular Price:

$9.99

Your Price:

$8.49

(15% savings)
Stand Strong in Life's Furnaces How do you respond when the bottom drops out? What happens to your character quotient when things don't go the way you planned? How do you react when the temperature is rising, you are under attack, and God seems far away?
Daniel discovered that the furnace experiences of life refine and define us. Spiritual integrity rarely grows when everything goes our way. Instead, God uses things like a furnace, a lion's den, a mad king, and exile in a foreign country to forge character in a soul. If you long to meet God in the challenging times and come through the fire stronger and more faithful, Daniel is ready to show the way.

Zondervan is an international Christian communications company with a heart for helping people find and follow Jesus Christ by inspiring them with relevant biblical and spiritual resources. They do this through their bestselling, award-winning, and life-changing products. Zondervan leads the way in Bible and book publishing, and they continue to expand their resource offering. They are working to become an even greater contributor to the international Christian marketplace. Today they offer a wide variety of resources for all ages. Their products include Bibles, books, audio resources, ebooks, videos, CD-ROMs, digital downloads, and inspirational gifts.
Publisher: Zondervan
Author: John Ortberg, Kevin G Harney, & Sherry Harney
Pages: 96
Format: Paperback
Publication Date: December 2008
Church Partner Contact Information