LifeChange Bible Study: Minor Prophets 1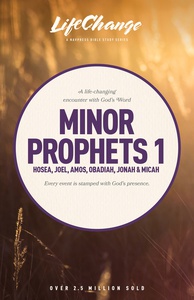 Item Number: 161-291-0765
Manufacturer SKU: 978-1-61291-076-5
Regular Price:

$11.99

Your Price:

$9.59

(20% savings)
Discover what the Bible says—not what someone else thinks it says—and develop the skills and desire to dig even deeper into God's Word. With this book, readers will gain an in-depth understanding of the books of Hosea, Joel, Amos, Obadiah, Jonah, and Micah. The book also contains study notes and questions for insight and reflection.
Publisher: NavPress
ISBN: 9781612910765
Author: The Navigators
Pages: 144
Format: Paperback
Weight: .35 lbs
Publication Date: May 2014
Size: 8.5" H x 5.5" W
This item can be returned to ChurchPartner as long as it has not been used, corners are not tattered or curled and is in its original packaging. All returns must be shipped back within 30 days of purchase for a full refund or exchange. All damaged product must be reported within 7 days of receipt. You are responsible for all shipping costs back to our warehouse unless the product was damaged in shipping. Please call us at 800-572-0550 and receive a Return Authorization number to ensure proper credit for the returned item. All credits will be distributed in the same manner as it was originally charged (i.e. credit card credits will be made to the same credit card used for purchase). All credits, with the exception of damaged items, will be for the product cost only, and will not include original shipping charges. Items must be received in resalable condition for credits to be issued. Items damaged during shipping back to our warehouse is the responsibility of the sender and, therefore, you are required to contact the shipping company and settle any disputes. Item returned without a Return Authorization number can be delayed in processing and credits might take 30 days or longer to process.

NavPress exists as the publishing arm of the Navigators, whose motto is "To know Christ and to make Him Known". They serve to advance the calling of the Navigators by publishing life changing products that are Biblically rooted, culturally relevant and highly practical. They seek out works that are for clear-thinking, disciplined followers of Christ who are looking to grow spiritually. NavPress provides life-transforming resources that will edify, instruct and inspire.
Church Partner Contact Information