How Do You Know God's Your Father?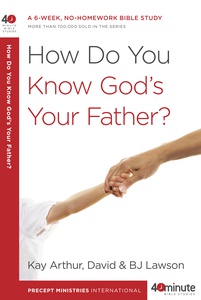 Item Number: 030-745-7622
Manufacturer SKU: 9780307457622
Regular Price:

$7.99

Your Price:

$6.79

(15% savings)
This brand new Bible study series from beloved Bible teacher Kay Arthur and the teaching staff of Precept Ministries tackles important issues in brief, easy-to-grasp lessons you can benefit from personally or as part of a small group. Each book in the series includes six 40-minute studies designed to draw you into God's Word through basic inductive Bible study.
As Kay explains, "Rather than simply reading or listening to what others say about a subject, you are going to see for yourself what God says about it." Join one of the world's most respected Bible teachers in a study that will revolutionize your thinking--and your life.

The key to lasting peace, confidence, and joy in the Christian life is knowing for sure who you are and Whose you are. This step-by-step walk through 1 John can help you discover whether or not you are a true child of God. By taking note of the way the Bible describes the differences between God's children and those of Satan, you can gain clearer insight into where you stand with God. Through this study you will see how your lifestyle will reflect the character of the One to whom you belong.
Dig into the Apostle John's first letter with Kay Arthur and David and B.J. Lawson. And discover what it means to walk in the light instead of darkness.
Publisher: WaterBrook
ISBN: 9780307457622
Author: Kay Arthur, David Lawson, & BJ Lawson
Pages: 54
Binding: Paperback
Publication Date: July 2009
Weight: 0.21 lbs
Size: 8.32" x 5.36"
This item can be returned to ChurchPartner as long as it has not been used, corners are not tattered or curled and is in its original packaging. All returns must be shipped back within 30 days of purchase for a full refund or exchange. All damaged product must be reported within 7 days of receipt. You are responsible for all shipping costs back to our warehouse unless the product was damaged in shipping. Please call us at 800-572-0550 and receive a Return Authorization number to ensure proper credit for the returned item. All credits will be distributed in the same manner as it was originally charged (i.e. credit card credits will be made to the same credit card used for purchase). All credits, with the exception of damaged items, will be for the product cost only, and will not include original shipping charges. Items must be received in resalable condition for credits to be issued. Items damaged during shipping back to our warehouse is the responsibility of the sender and, therefore, you are required to contact the shipping company and settle any disputes. Item returned without a Return Authorization number can be delayed in processing and credits might take 30 days or longer to process.

WaterBrook and Multnomah are two imprints of Penguin Random House. WaterBrook publishes Christian books that seek to intensify and satisfy a reader's elemental thirst for a deeper relationship with God. We seek messages that draw on the Bible, experiential learning, story, practical guidance, and inspiration to help readers thrive in their faith. Located in Colorado Springs, CO.
Church Partner Contact Information