Rising to the Call of Leadership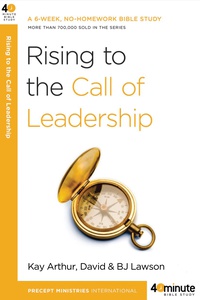 Item Number: 030-745-7691
Manufacturer SKU: 9780307457691
Regular Price:

$7.99

Your Price:

$6.79

(15% savings)
God calls every one of His people to positions of leadership and influence–in our homes, communities, churches, and ultimately the world. But true leadership involves more than simply being the person out front; it means living a life worth following.

In this study of four important leaders of Israel–Eli, Samuel, Saul, and David–you'll explore key leadership principles, including how to make wise decisions under pressure, deal effectively with mistakes, and set a course that others will follow. Most important, you'll learn what God expects of you–and how you can rise to the call of effective leadership.
Publisher: WaterBrook
ISBN: 9780307457691
Author: Kay Arthur, David Lawson, & BJ Lawson
Pages: 101
Binding: Paperback
Publication Date: July 2009
Weight: 0.35 lbs
Size: 8.34" x 5.48"
This item can be returned to ChurchPartner as long as it has not been used, corners are not tattered or curled and is in its original packaging. All returns must be shipped back within 30 days of purchase for a full refund or exchange. All damaged product must be reported within 7 days of receipt. You are responsible for all shipping costs back to our warehouse unless the product was damaged in shipping. Please call us at 800-572-0550 and receive a Return Authorization number to ensure proper credit for the returned item. All credits will be distributed in the same manner as it was originally charged (i.e. credit card credits will be made to the same credit card used for purchase). All credits, with the exception of damaged items, will be for the product cost only, and will not include original shipping charges. Items must be received in resalable condition for credits to be issued. Items damaged during shipping back to our warehouse is the responsibility of the sender and, therefore, you are required to contact the shipping company and settle any disputes. Item returned without a Return Authorization number can be delayed in processing and credits might take 30 days or longer to process.

WaterBrook and Multnomah are two imprints of Penguin Random House. WaterBrook publishes Christian books that seek to intensify and satisfy a reader's elemental thirst for a deeper relationship with God. We seek messages that draw on the Bible, experiential learning, story, practical guidance, and inspiration to help readers thrive in their faith. Located in Colorado Springs, CO.
Church Partner Contact Information