Folder Games for Children's Ministry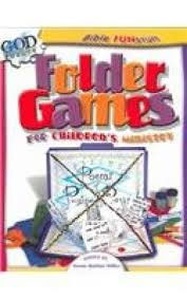 Item Number: 078-143-9612
Manufacturer SKU: 9780781439619
Regular Price:

$16.99

Your Price:

$14.45

(15% savings)

Closeout Price: $3.00

(82% savings)
Create fun games that can be used during children's ministry.
Wander through a 3-D wilderness, explore Bible friendships, and learn from the experiences of Jonah, Moses, Joseph and more. These easy-prep games are easily stored for future use in file folders. Pull one out when the time is right for your children's ministry.

David C. Cook is a nonprofit organization dedicated to publishing and distributing leadership and discipleship resources to help Christians all over the world grow in their faith and pass it on to the next generation. They call this "DiscipleShaping". They were established in 1875 by David Caleb Cook in Chicago, IL. Since that time, they have published numerous bestselling books from The Picture Bible to Crazy Love by Francis Chan, developed over ten lines of Sunday school curriculum, and published many of today's most popular praise and worship songs through their music division, Kingsway.
Our apologies, but this item is non-returnable.
Publisher: David C. Cook
ISBN: 9780781439619
Author: Susan Martins Miller & Lois Keffer
Pages: 144
Format: Paperback
Weight: .75 lbs
Publication Date: July 2003
Church Partner Contact Information