Evidence For the Resurrection Chart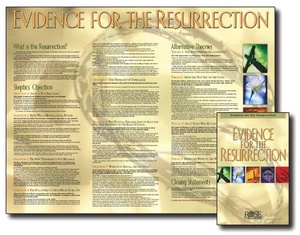 Item Number: RP-473L
Manufacturer SKU: 473L
Evidence For the Resurrection Chart- Perfect for Easter Sunday, Resurrection Sunday, or all year-round
Regular Price:

$14.99

Your Price:

$12.75

(15% savings)
Here are 12 reasons skeptics should believe that Jesus died and rose again. Examine the historical, archaeological, and cultural proofs for Jesus' life, death, and resurrection. Also know the answers to other beliefs held by atheists and others. Learn why the resurrection is central for Christians. Discover the evidence that has convinced critics over the years. Wall chart size: 19" x 26", printed on heavy chart paper and laminated.
Reproducible worksheets and teaching tips on back of this chart. Lamination will not affect the ability to photocopy worksheets.

Rose Publishing, Inc. publishes full-color easy-to-use Bible reference materials, including Bible charts, Bible maps, Bible timelines and biblical reference pamphlets for pastors, Bible study leaders, New Member Classes, and small groups. Rose Publishing specializes in graphics-rich Bible teaching aids. Its mission is to make Bible and Christian topics easy to understand and more interesting.
Our apologies, but this item is non-returnable.
Publisher: Rose Publishing
Size: 19" x 26"
Church Partner Contact Information