With the Lines of Love & Promise Lent Bulletin - Letter Size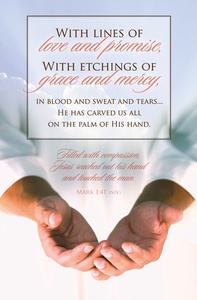 Item Number: U3581
Manufacturer SKU: U3581
Regular Price:

$8.29

Your Price:

$6.65

(20% savings)

Closeout Price: $5.00

(40% savings)
Shrink-wrapped package of 100.
8 1/2" X 11" unfolded. Folds to 5 1/2" X 8 1/2" with blank inside and blank back cover onto which the church can copy the order of the service, song lyrics, sermon notes, prayer requests and any other important information.
Text: With Lines Of love and promise, With Etchings Of grace and mercy, In blood and sweat and tears... He has carved us all On the palm of his hand. Filled with compassion, Jesus reached out his hand and touched the man.
Scripture: Mark 1:41 (NIV)

Since the inception of Warner Press and the founding of the Church of God Reformation Movement, their ministry has been to reach out and touch lives with products that communicate the message of Jesus Christ. Warner Press continues the publishing work of the early church by producing a wide variety of religious products. Warner Press provides the church with bulletins, church supplies, children's products and box card assortments.
Publisher: Warner Press
UPC: 730817333342
Our apologies, but this item is non-returnable.
Church Partner Contact Information