Finding Bethlehem in the Midst of Bedlam - Adult Study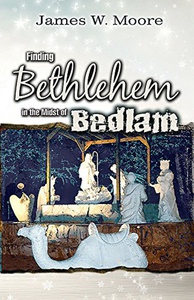 Item Number: 142-676-0822
Manufacturer SKU: 978-1-426-76082-2
Regular Price:

$12.99

Your Price:

$10.99

(15% savings)

Closeout Price: $3.00

(77% savings)
Christmas or confusion, Bethlehem or bedlam...which will you choose this year? The truth is, we don't have to choose, because Christmas always happens right in the midst of confusion. God breaks into the confusion and is made known in Jesus Christ.
Christmas and confusion-weren't they intimately related at the first Christmas when Jesus was born? Sometimes we forget that. But that's what this study is about - how Christ breaks into our confusion and brings Christmas, how Bethlehem always happens in the midst of bedlam.
This study has five sessons - one for each Sunday of Advent and one for Christmas. Each chapter includes questions for reflection and discussion, a brief prayer, a focus for the week, and six daily Bible readings for personal devotional time during the week.
Publisher: Abingdon Press
ISBN: 978-1-426-76082-2
Author: James W Moore
Pages: 143
Format: Paperback
Publication Date: September 2013
Size: 8.4" x 5.4"
Our apologies, but this item is non-returnable.

Abingdon Press is an imprint of The United Methodist Publishing House, in operation since 1789. In the early 1920s, Abingdon began publishing a wide array of high-caliber academic, professional, inspirational, and life-affirming religious literature to enrich church communities across the globe. Now beginning its ninth decade, Abingdon Press has a commitment to providing the best, most effective religious publications available.
Church Partner Contact Information