The Bible Made Easy for Kids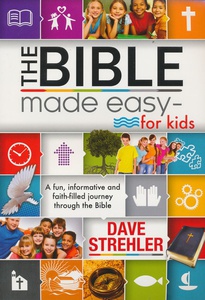 Item Number: 143-211-1694
Manufacturer SKU: 978-1-4321-1169-4
Regular Price:

$12.99

Your Price:

$10.39

(20% savings)
Forget boring!
Dave Strehler's "The Bible Made Easy--for Kids" takes young (and old!) readers on a fun-filled, informative journey to understand the Bible and apply it to their lives.
Conversational in tone, the writing is clear and simple. Contents are jam-packed with line drawings that beg to be colored, charts that help explain complex facts/concepts, questions that provoke thoughtful reflection and prompts that generate rousing discussions.
Key biblical topics like faith and salvation are explained in kid-friendly, age-appropriate terms.
This item can be returned to ChurchPartner as long as it has not been used, corners are not tattered or curled and is in its original packaging. All returns must be shipped back within 30 days of purchase for a full refund or exchange. All damaged product must be reported within 7 days of receipt. You are responsible for all shipping costs back to our warehouse unless the product was damaged in shipping. Please call us at 800-572-0550 and receive a Return Authorization number to ensure proper credit for the returned item. All credits will be distributed in the same manner as it was originally charged (i.e. credit card credits will be made to the same credit card used for purchase). All credits, with the exception of damaged items, will be for the product cost only, and will not include original shipping charges. Items must be received in resalable condition for credits to be issued. Items damaged during shipping back to our warehouse is the responsibility of the sender and, therefore, you are required to contact the shipping company and settle any disputes. Item returned without a Return Authorization number can be delayed in processing and credits might take 30 days or longer to process.
Publisher: Christian Art Gifts
ISBN: 978-1-4321-1169-4
Author: Dave Strehler
Pages: 380
Format: Paperback
Publication Date: February 2015
Size: 9.5" x 6.7"

Christian Art Gifts purpose is glorifying the Person of Christ by remaining faithful to the call of reaching the world through Christian resources; serving our customers with the highest level of service excellence, while building on firm biblical principles. Their products provide relevant resources, including Gift Books with solid scriptural truths, Bookmarks, Journals, Pass-around cards, Bible cases, Promise boxes - all with designs that radiate joyful and godly living.
Church Partner Contact Information