Joshua, Judges, Ruth Leader Guide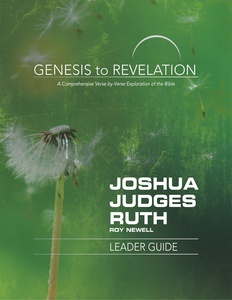 Item Number: 150-185-5344
Manufacturer SKU: 9781501855344
Regular Price:

$13.99

Your Price:

$11.19

(20% savings)
Study the books of Joshua, Judges, and Ruth, beginning with Joshua's story, then moving through Judges, and ending with the story of Ruth. Some of the major ideas explored are: sanctity and wonders, mercy in the face of judgment, judging the motive rather than the act, rest as an active state, God's positive and negative promises, putting our deeds in perspective, vengeance destroys the avenger, the visitor in our midst, and God's providence.
Leader Guide includes:
A verse-by-verse, in-depth look at the Scriptures.
Background material, including word studies and history of the biblical setting.
Answers to questions asked in the Participant Book.
Application of the Scripture to daily life situations.
Discussion suggestions.
A variety of study options.
Practical tips for leaders to use.

Abingdon Press is an imprint of The United Methodist Publishing House, in operation since 1789. In the early 1920s, Abingdon began publishing a wide array of high-caliber academic, professional, inspirational, and life-affirming religious literature to enrich church communities across the globe. Now beginning its ninth decade, Abingdon Press has a commitment to providing the best, most effective religious publications available.
Publisher: Abingdon Press
ISBN: 9781501855344
Author: Ray Newell
Pages: 120
Binding: Paperback
Publication Date: September 2018
Size: 8.5" x 11"
Church Partner Contact Information