Revelation Participant Book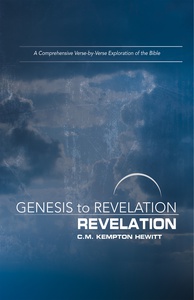 Item Number: 150-185-5412
Manufacturer SKU: 9781501855412
Regular Price:

$12.99

Your Price:

$10.39

(20% savings)
Study the entire Book of Revelation starting with John's theology that teaches that Jesus, the exalted Christ, is the center of faith. Some of the major ideas explored are: personal religious experience; the living voice of God in the church today; advocating for what is right; distinguishing between good and evil; God's grace seeks to redeem; and covenant with God.

Abingdon Press is an imprint of The United Methodist Publishing House, in operation since 1789. In the early 1920s, Abingdon began publishing a wide array of high-caliber academic, professional, inspirational, and life-affirming religious literature to enrich church communities across the globe. Now beginning its ninth decade, Abingdon Press has a commitment to providing the best, most effective religious publications available.
Publisher: Abingdon Press
ISBN: 9781501855412
Author: C.M. Kempton Hewitt
Pages : 118
Binding: Paperback
Publication Date: September 2018
Size: 5.5" x 8.5"
Church Partner Contact Information